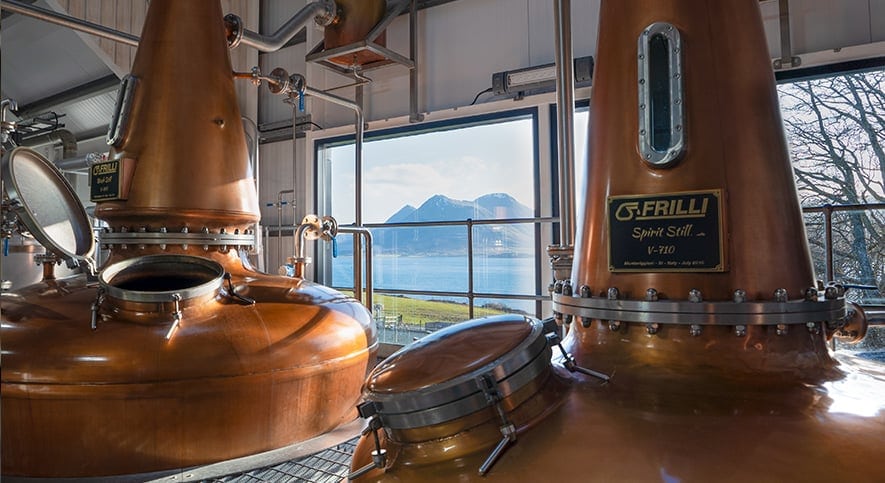 One of the questions we get asked all the time may seem obvious: What is Single Malt Scotch Whisky? Let's start at the beginning.
What is whisk(e)y?
Worldwide, the definition of whisky (or whiskey) varies considerably. The typical unifying characteristics are: fermentation of grains to create alcohol, a process of distillation in a still, and the aging of the spirit in wooden barrels, or casks as we call them in Scotland. From that loose definition, what is considered 'whisky' varies according to each country or tradition.
Scotch Whisky
All whisky made legally in Scotland is called Scotch whisky. The 2009 Scotch Whisky Regulations state that Scotch whisky is a spirit produced in Scotland:
At a distillery using malted barley and other whole grains of cereals with no further ingredients other than water and yeast;
Distilled to an alcoholic strength of less than 94.8% alcoholic per volume so as not to lose the flavour of the ingredients from which it was made (the grain);
Matured in oak casks for at least three years in Scotland;
Bottled at a strength of no less than 40% ABV.
Maturation – A Law of Unintended Consequences
Arguably, the most important development in the history of Scotch whisky was 'The Immature Spirits (Restriction) Act 1915' – a law of unintended consequences.
The Chancellor of the Exchequer at the time, teetotaler Lloyd George, declared: "Drink is doing more damage in the war than all the German submarines put together."
Lawmakers believed that spirit straight from the still was too cheap, too potent, and, in turn contributing to a decline in productivity.
Maturation was already taking place in Scotland. However, this new legislation standardised maturation across the industry, thereby cementing Scotch whisky's global reputation as a premium product and brand.
What is Single Malt Scotch Whisky?
A Single Malt Scotch Whisky is made from only water, malted barley, and yeast in a traditional batch distillation process using copper 'pot' stills. The term 'Single' on the bottle does not refer to single cask whisky, single batch, or single year. It is simply a guarantee that all the whisky in that bottling has been distilled at one, single distillery.
Our unique six-part maturation process at the Isle of Raasay Distillery combines two types of Isle of Raasay malt spirit – peated and unpeated – in three distinct cask types: Rye whiskey, fresh Chinkapin oak, and Bordeaux red wine casks.
These six casks are married together in varying proportions to produce a lightly peated, perfectly balanced single malt with real depth and complexity. This process of marrying together casks is not to be confused with Blended Scotch Whisky.
Our Whisky Join Our Virtual Tastings
What is Blended Scotch Whisky?
Blended Scotch Whisky is a mix of one or more Single Malt Scotch Whiskies with one or more Single Grain Scotch Whiskies. Nine out of ten Scotch whiskies sold around the world are blends.
What is Blended Malt Whisky?
Blended Scotch Malt Whisky combines different Single Malt Scotch Whiskies from two or more distilleries.
Our Tweeddale: The Evolution 28 Year Old is the perfect example of a premium blended Scotch Whisky. Our oldest Tweeddale whisky to date, it is a blend of classic Speyside single malts and a Lowland single grain.
What is Grain Whisky?
In the first part of the Scotch Whisky regulations, it makes clear that 'Scotch Whisky' is made using malted barley and that "whole grains of other cereals may be added." Whereas Scotch malt whiskies must be made exclusively from 100% malted barley, grain whiskies can be made from other grains, including maize or wheat.
Single Grain Scotch Whisky – a whisky made using other grains, like wheat and corn (maize) as well as at least 5% malted barley, distilled in a continuous column/Coffey still to give a lighter flavour.
Blended Grain Scotch Whisky – a blend of two or more Single Grain Scotch Whiskies, from at least two different distilleries.
Mixed mash-bills are common in whiskies from around the world. American rye whiskies, for example, are barrel-aged distilled spirits made from a mash of at least 51% rye.
By law, American whiskey and bourbon must be matured in fresh oak barrels – providing the Scotch Whisky industry with a steady supply of American oak casks. Indeed, our lightly peated signature Isle of Raasay Single Malt, released in 2021, is maturing in part in ex Woodford Reserve casks from Kentucky. These casks develop peppery, spicy flavours in our spirit in a sea of fruit and butterscotch.
Browse Our Whisky
The vast majority of grain whiskies are made specifically for Blended Scotch Whiskies. Blended Scotch whisky is always a combination of malt and grain whiskies. Although malt whisky often gets all the attention, grain whisky can be every bit as good, and full of interesting flavours and character when made with proper care and attention. This can be seen in R & B Distillers' range of grain whiskies, including Tweeddale: Grain of Truth, a whisky made from an uncommon composition of 50% wheat and 50% malted barley. Tweeddale: The Grain of Truth Peated Edition is, we believe, the world's first ever peated Single Grain Scotch Whisky.
A Virtual Tour of Raasay Distillery
Here on the Isle of Raasay, we specialise in crafting the finest Hebridean Single Malt Scotch Whisky. If you'd like to explore our distillery from the comfort of your home, join us on a whisky distillery tour and learn our innovative whisky making process and philosophy.