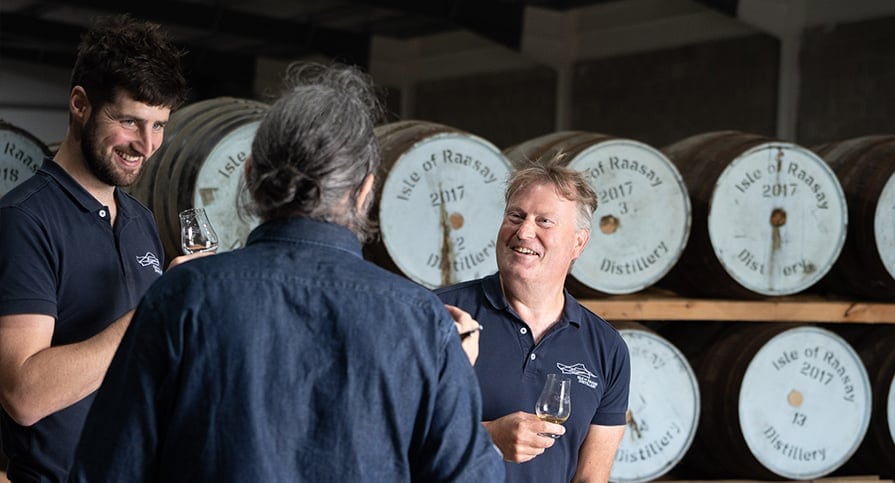 Our carefully crafted Isle of Raasay Single Malt recipe matures peated and unpeated Isle of Raasay spirit separately in three distinct cask types – ex-Rye Whiskey, fresh Chinkapin oak, and ex-Bordeaux red wine.
These six recipe casks, each with their own distinctive style and character, create real depth and complexity in the forthcoming Isle of Raasay Single Malt (released May 2021), which showcases our distillery's signature lightly peated style with rich dark fruit flavours.
Read on to find out more about the vision behind our unique six-cask maturation in this Q & A with Co-founder Alasdair Day.
---
Q: Tell us about the vision behind the distillery's signature six-cask maturation?
A: Back in 2015 and 2016 when we were designing the Isle of Raasay Distillery, we started by asking "what will the Isle of Raasay Single Malt taste like"?
We wanted to look at some of the older styles of Hebridean single malts, for example Islay whiskies that aren't prevalent anymore, like Bowmore from the 1960s and early 1970s that had smoke balanced with dark fruit flavours, including black cherries and perhaps apricots too.
This became the inspiration for our lightly peated single malt with dark fruit flavours that we are making on the Hebridean Isle of Raasay today.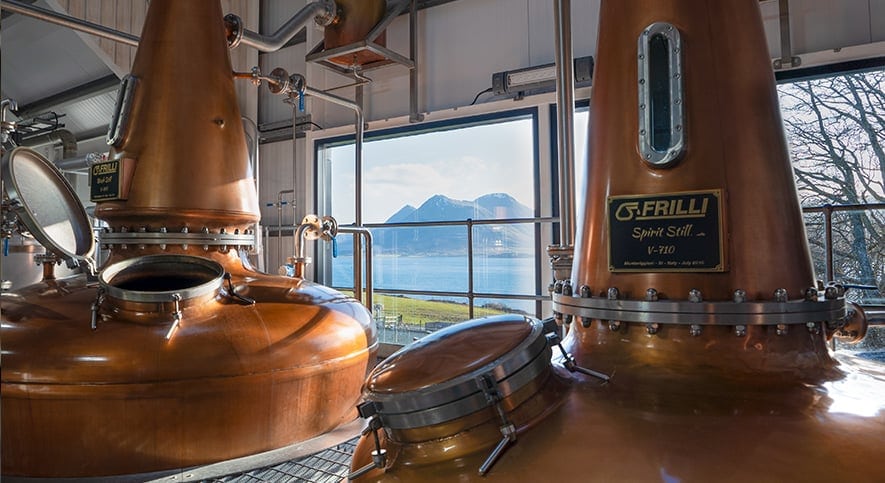 The next question we asked ourselves was: "How can we create an exceptional whisky that develops elegance, complexity, and depth early on in the maturation process?" While also considering how this recipe could produce single malt Scotch whisky of a more traditional age of ten or more years.
Due to the illustrious heritage of blending Scotch Whisky, the conventional wisdom says you make one style of single malt in a distillery as efficiently as possible, then mature it in an oak cask, typically an ex-bourbon cask, and wait until it is ready (10, 12, 15, 18 or more years). But what if you were to design a distillery with the flexibility to make different styles of single malt? This is an approach more typical in other countries like Japan, Taiwan, USA and Tasmania in Australia, and it is the approach that we have taken on the Isle of Raasay.
As part of our unique six-part maturation, we run peated and unpeated spirit at different times of the year and mature these two spirit types separately in three distinct varieties of oak casks – ex-Rye Whiskey, virgin Chinkapin oak, and ex-Bordeaux red wine.
Once we have selected casks ready for bottling, we vat the six recipe casks together (in varying proportions) to develop the complexity, depth and elegance we are looking to achieve. It is then bottled as our signature lightly peated Isle of Raasay Single Malt (coming out in May 2021).
This six cask maturation policy provides us with six different styles of whisky from our single distillery, and when vatted together in the correct proportions, gives the elegance, complexity and depth of a much older whisky.
---
Q: Why Chinkapin Oak?
A: We wanted a wood policy that would bring colour and a depth of flavour early on in the maturation of our single malt. We knew that fresh (virgin) Quercus alba casks that had never before been filled would overpower our spirit. So; we were looking for an oak variety that would bring more of the dark fruit flavours and dark colour we were looking for without overpowering our spirit. Quercus muehlenbergii, or Chinkapin oak as it is more commonly known, does exactly that.
Then there was a decision to be made on what char and toast levels would work best with our spirit in these Chinkapin oak casks. This is where the trial with Henric Molin's Spirit of Hven vodka comes in. We took three Chinkapin oak casks – one with a light char, another with a medium char, and one with a heavy char. We also trialled three other Chinkapin oak casks – one with a light toast, one with a medium toast, and one with a high toast, and filled all six with Henric's vodka. Why vodka? We wanted to use a neutral spirit like vodka or grain neutral spirit to exclude any interference of our distillery's malt spirit with the oak and concentrate on getting a sense of what the oak itself was doing.
After analysing the different char and toast levels, we decided the Chinkapin oak casks with the high char and high toast would have the right influence on our maturing spirit. The high char increases the internal surface area of the cask, allowing more of the spirit to come into contact with the oak, and it also develops a much darker colour. The high toast caramelises the natural sugars in the oak, adding lovely, sweet caramel and smoky barbeque flavours to our spirit.
---
Q: Why ex-Bordeaux Red Wine Casks?
A: As well as North American oak, we wanted to work with European oak varieties. The ex-Bordeaux red wine barriques that we use are made from two different varieties of French oak. Predominantly Quercus petraea – which has a very fine grain, meaning the spirit takes longer to soak into the wood – and also Quercus robur – which has a much wider grain, allowing the spirit to travel further into the wood.
These oak varieties impart much more savoury spice flavours compared to the North American oak, adding another layer of complexity to our spirit. The casks have also previously been used to age three vintages of Bordeaux red wine (also known as claret), before we fill them with our spirit.
Our mineral-rich Raasay water combined with long 3-5 day fermentations develop sweet blackberry characteristics in our new-make spirit before it even touches the oak of the cask. High quality red wine casks bring more of these dark fruit flavours to the fore – blackberries, plums and cherries – which act as the "top notes" in our final Isle of Raasay Single Malt Scotch whisky.
---
Q: Why Rye Whiskey?
A: The most common types of casks used to mature Scotch Whisky are ex-Bourbon barrels made from the most prevalent species of North American white oak, Quercus alba. However, as well the classic vanilla flavour that you get from this type of oak, we wanted a spicier black pepper note and more of a butterscotch flavour. This is what our first fill ex-Rye Whiskey barrels (ex-Woodford Reserve) bring to our single malt. We were also inspired by how the US craft distillers movement reinvigorated Rye Whiskey (a product of Scotch-Irish immigration to America) into a cool, stylish, sought after whiskey again.
As well as our unique six cask story, our other blogs and videos look at how we prioritise flavour, quality and provenance in all aspects of our production. Look out for more on the influence of barley varieties and regions, yeast trials, our Raasay water source, and our innovative production, distillation and whisky making processes.